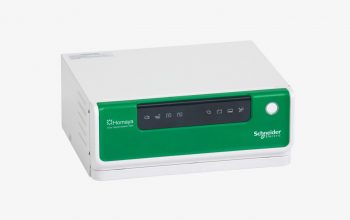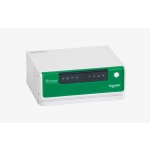 Schneider Homaya Solar Hybrid System 1500
₦79,040.00
Proven value for off-grid, backup power and self-consumption
ConextTM SW is perfect for off-grid, backup power and self-consumption applications, it is a pure sine wave, hybrid inverter system with switchable 50/60 Hz frequencies, providing power for every need. For expanded off-grid capacity, the Conext SW is integrated with fuel-based generators as required to support loads larger than the generator's output.
It's also self consumption ready, able to prioritize solar consumption over the grid, while maintaining zero grid export. The Conext SW works with the grid to avoid peak utility charges and support the grid when utility supply is limited. Accessories include pre-wired universal DC distribution panel and AC distribution panels. Stacking two Conext SW units will double the system's total output power and available solar charge controllers allow for the integration of solar capacity as required.
Description
Additional information
Reviews (0)
Product Specifications
Description
Higher return on investment
• Cost effective
• Excellent load start capabilities with high 30-minute and 5-second surge power
• Harness the continuously declining production cost of solar power
Designed for reliability
• Robust design through rigorous reliability testing (HALT)
Flexible
• Available in 24VDC supporting both 50Hz and 60Hz output
• Stack two units to double output power up to 8 kW
Easy to service
• Global support and training
• Replaceable boards and spare parts
Easy to install
• Configures quickly into compact wall mounted system
• Companion breaker panels integrate inverter with battery bank and solar charge controllers
• Table top design makes installing inverter on any surface easy
---
Only logged in customers who have purchased this product may leave a review.
Electrical Specifications
⦁ Output Power: 1500VA
⦁ Nominal Battery Size & Voltage: 24V, 100Ah to 200Ah
⦁ Recommended Solar Panel: 1000Wp, 24V with OCV of 35V to 45V
⦁ AC volatge: 230V AC, 50Hz
⦁ DC Output: 12V 5A
⦁ Charger: 10A
⦁ Supported battery types: Tubular Flat plated Flooded, AGM, GEL, VRLA Battery
⦁ Operation temp range: -20°C to 65°C
⦁ Dimensions (mm) (LxBxW): 375 x 315 x 135
⦁ Ingress protection: IP20 Indoor only

Related Products
You've just added this product to the cart:

Schneider Conext SW Inverter/Charger 4048 230

Schneider Conext SW Inverter/Charger 4048 230

Proven value for off-grid, backup power and self-consumption Conext SW is perfect for off-grid, backup power and self-consumption applications, it is a pure sine wave, hybrid inverter system with switchable 50/60 Hz frequencies, providing power for every need. For expanded off-grid capacity, the Conext SW is integrated with fuel-based generators as required to support loads larger than the generator's output. It's also self consumption ready, able to prioritize solar consumption over the grid, while maintaining zero grid export. The Conext SW works with the grid to avoid peak utility charges and support the grid when utility supply is limited. Accessories include pre-wired universal DC distribution panel and AC distribution panels. Stacking two Conext SW units will double the system's total output power and available solar charge controllers allow for the integration of solar capacity as required. Electrical Specifications ⦁ Output power continuous at 25°C: 3800W ⦁ Nominal battery Voltage: 48V ⦁ Input DC voltage range: 40 to 68VDC ⦁ Ouput volatge: 230Vac 50Hz ⦁ Efficiency: 94% ⦁ Charger: 45A ⦁ Input current: 15.0 A ⦁ Transfer time: 20ms ⦁ Idle power consumption: <11W ⦁ Supported battery types: Flooded, AGM, GEL, Custom ⦁ Operation temp range: -20°C to 65°C ⦁ Dimensions (mm) (LxBxW): 418x341x197 ⦁ Weight: 28.1kg ⦁ Ingress protection: IP20 Indoor only Schneider Conext SW Inverter/Charger 4048 230 Double click on above image to view full picture Zoom Out Zoom In More Views

₦

796,614.00