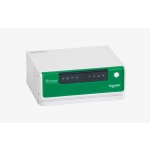 Schneider Electric Homaya Solar Hybrid System 1500
₦82,000.00Exc VAT
Solar Homaya Hybrid Home System 1500powers
both AC and DC loads from the smart synergy of solar and grid energy
Homaya Solar Hybrid System range is designed to provide access to energy at an affordable price with less dependency on the grid supply.
Homaya Solar Hybrid System has an in-built artificial intelligence to prioritize solar energy over the grid supply, thereby saves electricity bills.
Availability:

8 in stock
SKU:

Schneider Homaya Solar Hybrid System 1500
Category: Inverters
Description
Additional information
Reviews (0)
Product Specifications
Description
Recommended
Solar Panel Wattage – 1000 Wp, 24V with OCV of 36V to
45V
AC Input – 230V AC, 50 Hz
AC output – 1500VA – 230V AC, 50 Hz
DC output – 12V, 5A
Recommended Battery Size – 24V, 100Ah to 200Ah
Recommended Battery type – Supports Tubular, Flat plate, GEL/VRLA
battery
Product dimensions in mm (LxWxH) – 375 x 315 x 150
Safety and reliability – Protected against short-circuit, High
temperature and Internal fault protection
Benefits
Secure Power-

Serves
both unreliable and off-grid geographies

Supports household energy requirement-

Powers the common AC appliances in homes and shops
---
Only logged in customers who have purchased this product may leave a review.
Electrical Specifications
⦁ Output Power: 1500VA
⦁ Nominal Battery Size & Voltage: 24V, 100Ah to 200Ah
⦁ Recommended Solar Panel: 1000Wp, 24V with OCV of 35V to 45V
⦁ AC volatge: 230V AC, 50Hz
⦁ DC Output: 12V 5A
⦁ Charger: 10A
⦁ Supported battery types: Tubular Flat plated Flooded, AGM, GEL, VRLA Battery
⦁ Operation temp range: -20°C to 65°C
⦁ Dimensions (mm) (LxBxW): 375 x 315 x 135
⦁ Ingress protection: IP20 Indoor only

Related Products
You've just added this product to the cart:

Juststandout Smart Hybrid Inverter 8kw 8048104

Juststandout Smart Hybrid Inverter 8kw 8048104

Inverter, AC charger, Solar controller, monitoring dongle and CT included as a complete package drastically reducing CAPEX.
Programmable multiple operation modes:On grid, Off grid and UPS
Supports peak load up to twice the output rating maximizing self-consumption and can power loads not connected to the Inverter.
Option for smart load connection based on battery level and grid availability
In-built 2 or 4 MPPTto maximize PV power and take advantage of multiple roof orientations.
Smart settable3 stages MPPT charging and AC charger for optimized battery performance.
Configurable Solar/AC/Generator charging priority by LCD setting.