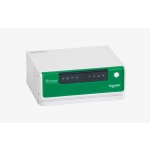 Schneider Electric Homaya Solar Hybrid System 1500
₦82,000.00Exc VAT
Solar Homaya Hybrid Home System 1500powers
both AC and DC loads from the smart synergy of solar and grid energy
Homaya Solar Hybrid System range is designed to provide access to energy at an affordable price with less dependency on the grid supply.
Homaya Solar Hybrid System has an in-built artificial intelligence to prioritize solar energy over the grid supply, thereby saves electricity bills.
Availability:

8 in stock
SKU:

Schneider Homaya Solar Hybrid System 1500
Category: Inverters
Description
Additional information
Reviews (0)
Product Specifications
Description
Recommended
Solar Panel Wattage – 1000 Wp, 24V with OCV of 36V to
45V
AC Input – 230V AC, 50 Hz
AC output – 1500VA – 230V AC, 50 Hz
DC output – 12V, 5A
Recommended Battery Size – 24V, 100Ah to 200Ah
Recommended Battery type – Supports Tubular, Flat plate, GEL/VRLA
battery
Product dimensions in mm (LxWxH) – 375 x 315 x 150
Safety and reliability – Protected against short-circuit, High
temperature and Internal fault protection
Benefits
Secure Power-

Serves
both unreliable and off-grid geographies

Supports household energy requirement-

Powers the common AC appliances in homes and shops
---
Only logged in customers who have purchased this product may leave a review.
Electrical Specifications
⦁ Output Power: 1500VA
⦁ Nominal Battery Size & Voltage: 24V, 100Ah to 200Ah
⦁ Recommended Solar Panel: 1000Wp, 24V with OCV of 35V to 45V
⦁ AC volatge: 230V AC, 50Hz
⦁ DC Output: 12V 5A
⦁ Charger: 10A
⦁ Supported battery types: Tubular Flat plated Flooded, AGM, GEL, VRLA Battery
⦁ Operation temp range: -20°C to 65°C
⦁ Dimensions (mm) (LxBxW): 375 x 315 x 135
⦁ Ingress protection: IP20 Indoor only

Related Products
You've just added this product to the cart:

Schneider Electric Conext SW Inverter/Charger 2524 230

Schneider Electric Conext SW Inverter/Charger 2524 230

Proven value for off-grid, backup power and self-consumption

ConextTM SW is perfect for off-grid, backup power and self-consumption applications, it is a pure sine wave, hybrid inverter system with switchable 50/60 Hz frequencies, providing power for every need. For expanded off-grid capacity, the Conext SW is integrated with fuel-based generators as required to support loads larger than the generator's output. It's also self consumption ready, able to prioritize solar consumption over the grid, while maintaining zero grid export. The Conext SW works with the grid to avoid peak utility charges and support the grid when utility supply is limited. Accessories include pre-wired universal DC distribution panel and AC distribution panels. Stacking two Conext SW units will double the system's total output power and available solar charge controllers allow for the integration of solar capacity as required.

₦

669,330.00Exc VAT