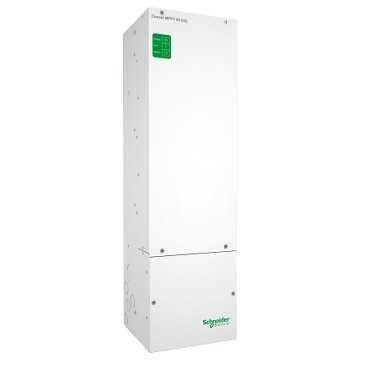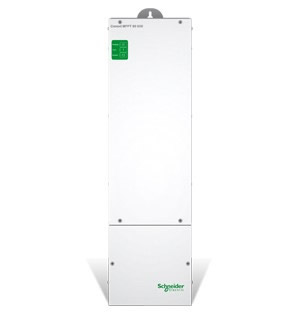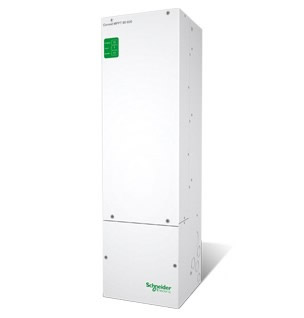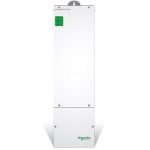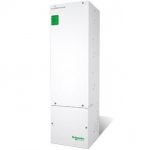 Schneider Electric Conext MPPT 80 600 Solar Charge Controller
₦692,792.00Exc VAT
Install for less, harvest more energy
The ConextTM MPPT 80 600 solar charge controller offers an industry-first set of integration features and top performance that allows for large PV array systems to be easily installed and connected to the battery bank at the lowest overall cost. Installing one MPPT 80 600 is faster than installing multiple smaller charge controllers and lowers overall costs further by utilizing fewer PV strings, smaller wiring and conduit, and by eliminating the need for PV combiner boxes and DC circuit breakers.
Longer distances from array site to battery bank are also easier to accommodate than with smaller charge controllers. Advanced Fast Sweep Maximum Power Point Tracking (MPPT) charging technology helps harvest the most energy available from the PV array, even in partial shade conditions. A battery charge current of 80 A allows for the connection of PV arrays rated up to 600 V STC (2560 W for 24 V systems, 4800 W for 48 V systems)
Availability:

3 in stock
SKU:

865-1032
Category: Controllers
Description
Additional information
Reviews (0)
Description
Electrical Specifications
⦁ Nominal battery Voltage: 24 & 48V (default is 48V)
⦁ Battery operating voltage: 16 to 67VDC
⦁ Max charge current: 80A (except 60V)
⦁ Max Output Power: 2560 W (nominal 24 V), 4800 W (nominal 48 V)
⦁ PV operating voltage: 195Vdc to 550Vdc
⦁ Max PV open circuit voltage: 600Vdc
⦁ Efficiency: 93% (nominal 12 V), 94% (nominal 24 V), 96% (nominal 48 V)
⦁ Power consumption, Night time: <1W
⦁ Supported battery types: Flooded, AGM, GEL, Custom
⦁ Operation temp range: -20°C to 65°C
⦁ Dimensions (mm) (LxBxH): 760x220x220
⦁ Weight: 13.5kg
⦁ Protection: IP20.
Higher return on investment
• Installs faster with fewer costly components
• Improve battery life with selectable multi-stage temperature compensated charging
• Harvest more energy with shade tolerant fast sweep MPPT algorithm
Designed for reliability
• Robust design through rigorous Multiple Environmental Over Stress Testing (MEOST)
Flexible
• Available remote monitoring and configuration
• Compatible with any brand of PV module, any grounding method
• Stand-alone application or full integration with Conext XW inverter charger system
Easy to install
• Fewer string wires
• Smaller AWG Wire
• No need for combiner box or GFI circuit breaker
---
Only logged in customers who have purchased this product may leave a review.
Related Products
You've just added this product to the cart:

Schneider Electric XW+ CONFIGURATION TOOL

Schneider Electric XW+ CONFIGURATION TOOL

The Schneider Electric C35 is a controller for virtually any DC charging source. The C35 is field configurable for 12 and 24 VDC operation. It can be used as a charge, diversion, or load controller and comes with a standard multi-color charge status LED. It is a fully solid state, microprocessor-driven controller that is UL and cUL listed.

₦

46,473.43Exc VAT