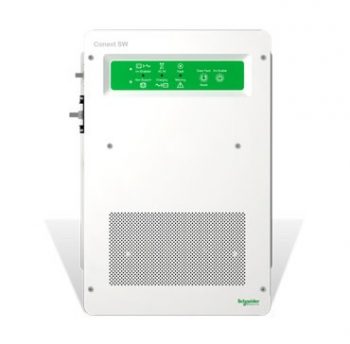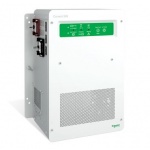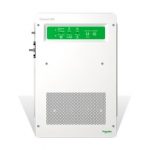 Schneider Electric Conext SW Inverter/Charger 2524 230
₦669,330.00 Exc VAT
MPPT multi-stage charging, better battery life
The Conext MPPT 60 150 is a photovoltaic (PV) charge controller that tracks the maximum power point of a PV array to deliver the maximum available current for charging batteries. When charging, the MPPT 60 150 regulates battery voltage and output current based on the amount of energy available from the PV array and state-of-charge of the battery.
Availability:

8 in stock
SKU:

Schneider Conext SW Inverter/Charger 2524 230
Category: Inverters
Description
Additional information
Reviews (0)
Product Specifications
Description
Proven value for off-grid, backup power and self-consumption
ConextTM SW is perfect for off-grid, backup power and self-consumption applications, it is a pure sine wave, hybrid inverter system with switchable 50/60 Hz frequencies, providing power for every need. For expanded off-grid capacity, the Conext SW is integrated with fuel-based generators as required to support loads larger than the generator's output.
It's also self consumption ready, able to prioritize solar consumption over the grid, while maintaining zero grid export. The Conext SW works with the grid to avoid peak utility charges and support the grid when utility supply is limited. Accessories include pre-wired universal DC distribution panel and AC distribution panels. Stacking two Conext SW units will double the system's total output power and available solar charge controllers allow for the integration of solar capacity as required.
---
Only logged in customers who have purchased this product may leave a review.
Electrical Specifications
⦁ Output power continuous at 25°C: 3000W
⦁ Nominal battery Voltage: 24V
⦁ Input DC voltage range: 20 to 34VDC
⦁ Ouput volatge: 230Vac 50Hz
⦁ Efficiency: 91.5%
⦁ Charger: 65A
⦁ Input current: 10.4 A
⦁ Transfer time: 20ms
⦁ Idle power consumption: <11W
⦁ Supported battery types: Flooded, AGM, GEL, Custom
⦁ Operation temp range: -20°C to 65°C
⦁ Dimensions (mm) (LxBxW): 418x341x197
⦁ Weight: 22.3kg
⦁ Ingress protection: IP20 Indoor only
Related Products
You've just added this product to the cart:

Schneider Electric CONEXT SW Inverter/Charger 4024 230V

Schneider Electric CONEXT SW Inverter/Charger 4024 230V

Specifications:

Continuous Output Power at 25ºC (77ºF): 5,500 Watts

Overload Power (30 min / 60 sec) 25ºC (77ºF) : 7,000 / 9,500 Watts

Continuous Output Power at 40ºC (104ºF): 4,500 Watts

Output AC Frequency: 50/60 Hz (selectable)

Max. Output Charging Current: 110 Amps (battery temp. sensor is included)

Peak Efficiency: 95.8%

Weight: 118.0 lbs.

Dimensions (H x W x L): 23" x 16" x 9"

Regulatory Approval: UL1741, CSA 107.1, FCC & Industry Canada Class B, IEEE 1547 and CSA 107.1

₦

740,850.60 Exc VAT