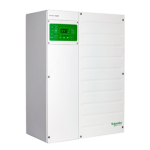 XW Pro 8.5 kW Hybrid Inverter 230V
₦1,883,112.00Exc VAT
The XW Pro is the evolution of a time-tested high quality hydros storage inverter.
5 years warranty
Stack up to 6 inverters with 3 phases.
Closed loop with Pylontech batteries.
AC coupling.
The XW Pro solar hybrid inverter is the heart of your building power system, connecting solar and battery storage with the grid for backup power and energy security. It can be used for solar and storage, or backup power systems without solar.
Description
Specifications:
Output power continuous at 25 degrees
Input DC Voltage range: 42 to 60 VDC
Output Voltage: L-N 120V +/-3%
L-L 240V +/-3%
Efficiency: 95.7%
Charger DC: 110A
Input current: 150A
Idle power consumption <8W
Supported battery type: Compatible with pylontech Lithium ion batteries
Warranty: 5 years
Operation temperature range: -25 degree Celsius to 70 degree Celsius.
Dimension (mm)(LXBXW): 58X41X23cm
Weight: 53.5kg
AC input Voltage range: 55 – 65Hz
AC grid-tie voltage range: L-N 105.5 to 132 +/- 1.5V
L-L 211 to 264 +/- 3.0V
---
Only logged in customers who have purchased this product may leave a review.