Sale!
Ultra-low Voltage Automatic AC Stabilizer RELAY TYPE Single Phase
₦29,560.00 – ₦112,875.00 Exc VAT
Range Presentation
Range name  HAVR Lower rating Connection type Input voltage: 0.5kVA 1: 1kVA 1P5: 1.5kVA … 10: 10kVA 10G: 10kVA cabinet E: Europe plug B: British plug H: Terminal connect Default: Input: 85-250V I110: Input: 110-250V Note: HAVRL only has 220V output.. Additional features are available, please consult us if you want to customized type. Technical Parameters Ultra-Low Voltage Relay Type Voltage Stabilizer HAVRL Model Standard Model Economic Model Rated capacity kVA 0.5-10 Output voltage Accuracy of stabilized voltage V 220±8%; 110±10% (only when capacity is equal or less than 5kVA) Overvoltage protection V 250±4 Range of input voltage V 85-250 110-250 Customized input range V 110-250 or 140-250 140-250 Extended function* Optional By-pass Fan Input undervoltage protection Power factor 0.8 0.6 Voltage-regulating speed ms <10 Temperature rise K <75 (with rated load) Frequency Hz 50/60 Display mode LED Insulation resistance MΩ ≥5 Efficiency >90% Maximum rated current A 2.3 (0.5kVA),4.5 (1kVA), 6.8 (1.5kVA), 9.0 (2kVA), 13.6 (3kVA), 22.7 (5kVA), 31.8 (7kVA), 45 (10kVA) Standard EN61000-6-2/ EN61000-6-4/EN61558-1 HAVRL Relay Type Voltage Stabilizers Standard: EN61000-6-2, EN61000-6-4, EN61558-1 VOLTAGE STABILIZERS HAVRL is Himel range of single-phase relay type voltage stabilizers. It's up to 10KVA, a cost effective design to answer frequent fluctuations from power grid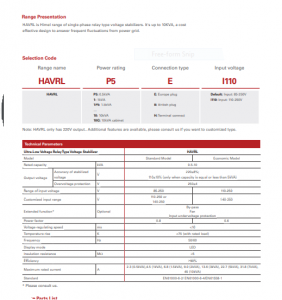 Description

Additional information
| | |
| --- | --- |
| Size | 2Kva, 3Kva, 5Kva, 10Kva |
Only logged in customers who have purchased this product may leave a review.